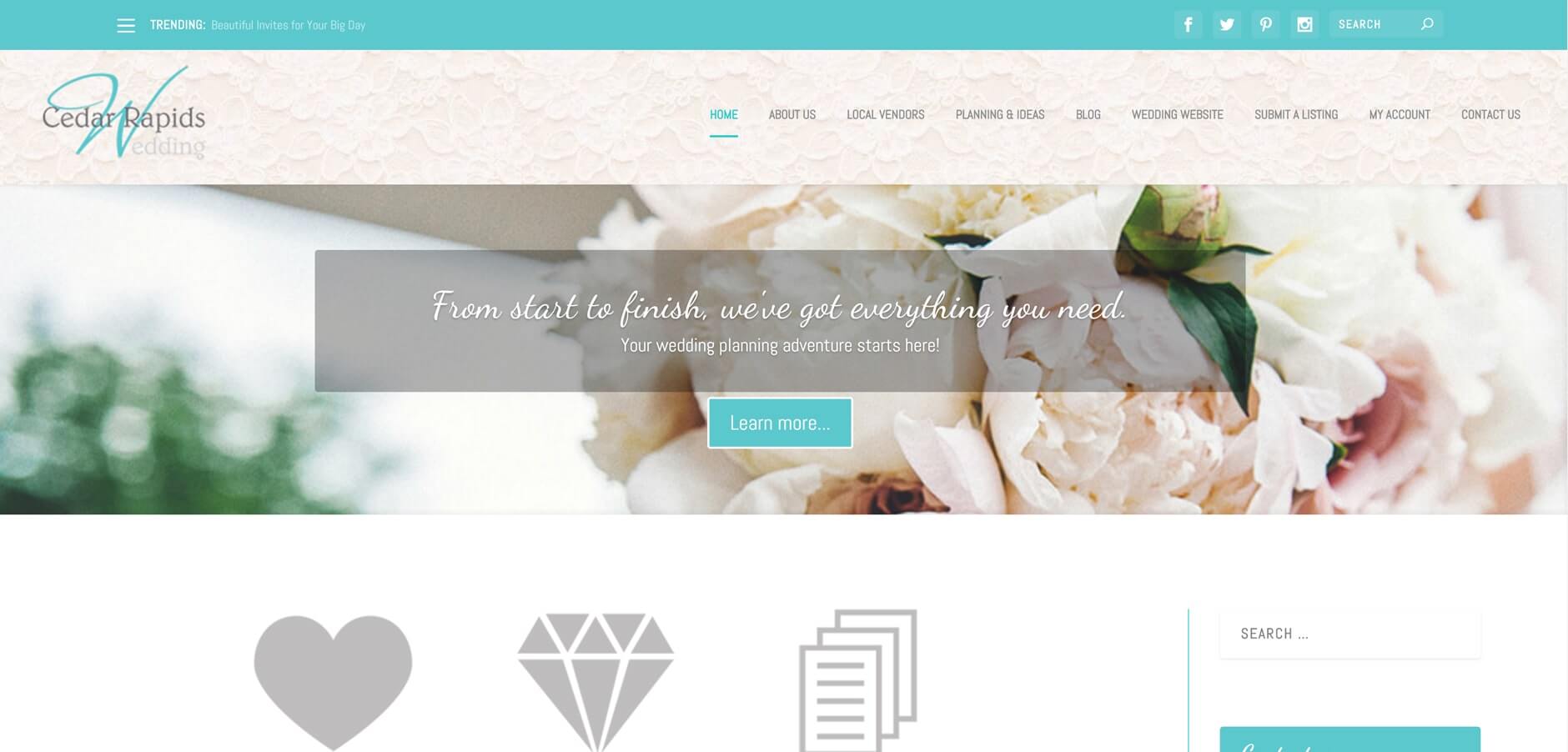 Project Description
To create a website that local vendors can advertise, and allow newly engaged couples a one stop shop for their wedding planning.
Targeted user & design process
Primary user group were females in the Cedar Rapids area. Newly engaged between 20-35 years of age who are in the planning stages of their wedding. I worked in conjunction with the MTE team for specs, feedback from the design concept to creation.
End Result
Clean elegant website that is responsive  throughout mobile devices.
Hosts an online directory that accepts subscription payments from local vendors.
Features an integrated newsletter form (that connects to MailChimp) for site updates.
Allows the ability for a bride-to-be to create their own wedding invitation page.
Has a blog that the staff manages in which delivers information and fun ideas for the targeted user group.
Integrated SMO to easily stay in touch with client base.
Staff can manage blog without having to learn code.
After the site was live, we relied on user feedback for additional changes. We continue to update and tweak this site based upon our user's experience.
Skills  Database Creation & Management, Software Installation, Design and Integration to WordPress, documented patterns for layouts and navigation systems.
Wedding page form
Brides can have their own personal wedding page to let their guests know about their upcoming event.
They simply fill out the form choosing one of 3 layouts for their wedding page.
Each page features: a custom page url name, gallery, RSVP, registry info, venue info, accommodations and directions.
Events Calendar
A calendar is featured on the website with a fully customized front end allowing administrators to update events without having to learn code.
Calendar also lists up coming events on the front page of the website.
Paid Directory Listing
In order to generate revenue, we decided to go with a commercial directory. The directory is custom designed to fit the needs of CR Wedding. Functionality includes: Registration & login, dashboard, maps and a user review section.
Like what you see? Contact us for a quote!