Project Description
Kalona Super Natural full website re-design and UI design. When Kalona contacted us, we asked to create a responsive website that keeps to their strict design guidelines for fonts colors and style. They needed a set up so that their staff could easily manage without having to know how to code. This is a fun and colorful design that features integrated social media feed, slider and testimonials section and is fully responsive.
Design and Development Process
At the start of the project we interviewed the project manager to evaluate what their goals were. We asked what obstacles they were facing in reaching those goals, and what methods were currently being used and have been used in the past. We asked about their normal process for updating their site, how they publish from a staging environment to a live one. etc.
Based on their feedback we decided it was time to dig deeper and conduct a full evaluation of the website. We looked at the structure of the website, tested each aspect of the site to determine areas of concern and if proper coding techniques and practices were being used.
We discovered that the original WordPress setup did not work in it's entirety. Blog posts would not show up on the feed or on the archives of the site. There was content that was hard coded that was detached from the original WordPress installation not allowing the software to work as it should. The site was slightly dated, not mobile responsive and lacked in speed. Something that is critical for SEO and the for end user experience.
In our interviews with Kalona we found that they required strict guidelines on their branding which was carefully considered and planned during the development and design process. Kalona loved the current color scheme and typography that they had for their site.
We created a demo site with wire frames made using Adobe products and sent them out for review.  After, we created a staging environment to further implement revisions and  to showcase a live product.
Our process included but was not limited to:
Installing a fresh version of WordPress and securing it so that the staging site did not hinder their SEO efforts and could not be visible to outside eyes.
Importing the content from their old database onto the staging environment (users, blog posts pages etc).
Designing and hand coding the front end design utilizing (CSS, HTML and Javascript) to specifications.
Installed custom fonts (not google standard fonts) onto their site internally to render and adhere to their specific branding.
Optimizing for site speed, SEO, and integrating social media tools.
Once approved, we merged and replaced the live site with the new site. We completed the project and handed it over to the client with an A speed ranking.
The Result
A clean coded, fast, beautiful, fun design with great a UX.
All content is properly categorized and easy to maintain as well as to manipulate and modify. Best of all, the site is responsive and carries over all the features they need such as a newsletter, store, and an integrated featured social media section.
Project Details
Skills Responsive Web Site Design, Speed Optimization, Database Creation, Software Installation, Social Media Integration, Design Integration to WordPress
Recipe Section
Custom designed recipe section that features great recipes using their products. Designed to keep within Kalona's branding.
The blog section is also designed with the same look and feel.
Typography manually installed to match their style that pulls the design together giving it a professionally designed but not decorated feel.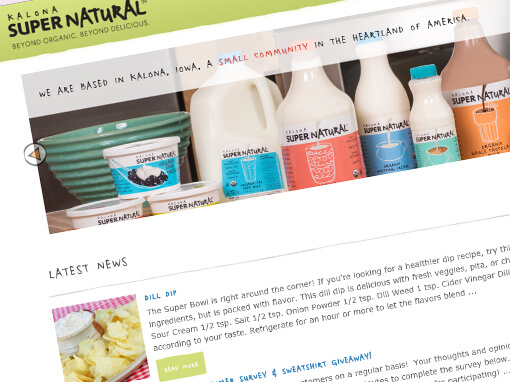 Project Feature
This design has been maintained by Kalona since it's launch.
Like what you see? Contact us for a quote!